Diabetic Retinopathy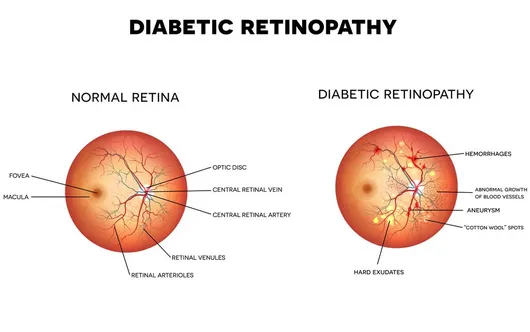 Diabetic retinopathy is one of the more common conditions that affect diabetes. It's actually the leading cause of blindness in adults in the U.S. This particular condition causes damage to the retina, which is the portion of the eye consisting of nerves. It's the part of the eye that receives light and transfers images to the brain. Two main types of diabetic retinopathy exist: nonproliferative retinopathy and proliferative retinopathy. With nonproliferative retinopathy, the small vessels in the back of the eye begins to swell. They then form pouches and eventually rob the retina of its blood supply. On the other hand, proliferative retinopathy causes new blood vessels to grow, which prevents the retina from getting enough blood. The new vessels are weak, and it's possible for blood to leak from them. This condition causes floaters, blurred vision, black spots in your field of vision, and a loss of your central vision.
Importance of Routine Screening
While it's important for all individuals to receive routine eye screenings, it's even more so for diabetic patients.

Treatment for Eye Problems
The treatment depends upon the condition. For diabetic retinopathy, laser surgery may be necessary to remove vessels or treat abnormal ones.

Schedule an appointment for a diabetic eye examination if you have diabetes by contacting Forest Creek Eye Center at (512) 341-2020.